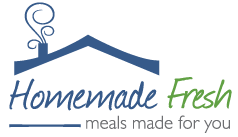 Serving the greater
Charlotte area
704.724.0485
Homemade Fresh's extensive recipe collection includes a variety of meats, vegetables, sauces, spices, and styles of meals, all with a burst of flavor. The focus is on made-from-scratch, nutritious food using fresh and minimally processed ingredients. Whether you want comfort food with a healthy spin, wholesome home-style meals, vegetarian meals, heart-healthy food, gluten-free meals, nutritious food your children will eat, or meals from various cultures, Homemade Fresh can satisfy your palette.
Each client's menu is personalized based on an initial client assessment and feedback from previously prepared meals. I want clients to be satisfied with their meals, so I encourage questions, suggestions and feedback.
The following is a sample menu. Imagine having these meals waiting in your refrigerator when you arrive home from your busy, stressful day. Just follow the detailed heating instructions, change into comfy clothes, and enjoy your Homemade Fresh meals!
Crab Cakes with Remoulade and Creamed Spinach
My clients rave about the "best crab cakes ever!" These crab cakes are full of delicious real crab meat and tasty fresh ingredients, not filler. They are crunchy on the outside and moist on the inside. Sweet and slightly spicy remoulade and creamy spinach complete this protein-rich, tasty meal.
Chicken & Spinach Enchiladas with Mexican Brown Rice Pilaf
These enchiladas are a client favorite, and not like those typically found in a restaurant. I use a blend of chicken breast, spices, vegetables and cheeses to create a unique, fresh flavor in the enchiladas. Served with a delicious brown rice pilaf, this is definitely not like your standard take-out meal!
Beef Burgundy Stew and Roasted Seasonal Vegetables
Lean beef, celery, tomatoes, carrots and mushrooms cook slowly in an herbed red wine sauce until the beef is so tender you can cut it with a fork. This hearty stew is served over egg noodles with a side of mixed roasted seasonal vegetables for a balanced and comforting meal.
Roasted Vegetable Lasagna and Strawberry Spinach Salad with Poppy Seed Vinaigrette
This lasagna is so hearty that you won't miss the meat. Even die-hard carnivores love this veggie lasagna! Freshly roasted broccoli, onions, spinach, carrots, zucchini, mushrooms and red peppers simmer in a mildly spicy homemade tomato sauce. All this fresh goodness is layered with pasta and a blend of Italian cheeses. Serve with a spinach salad, and you'll love this nutritious and delicious vegetarian meal.
Coconut Curry Chicken & Vegetables with Pineapple Coconut Basmati Rice
Give your taste buds a flavor sensation with this savory and spicy meal with a little sweetness in the rice. This meal is an example of several varieties of curry that we offer, including Thai Red, Vietnamese Lemon, and vegetarian versions.
Slimmed Down Turkey Meatloaf and Cinnamon Honey Mashed Sweet Potatoes
This definitely isn't your mother's meatloaf. A blend of vegetables and spices makes this healthy meatloaf moist and tasty, and if you like a little "kick" I'll add that too! Creamy mashed sweet potatoes complement this delicious way to enjoy guilt-free comfort food!
Mediterranean Stuffed Chicken and Spanakorizo (Greek Wild Rice Pilaf)
Greek seasoned chicken stuffed with spinach, sun dried tomatoes and feta cheese is drizzled with a tomato and wine reduction for a delicious taste of the Mediterranean. The chicken is served with a scratch-made wild rice pilaf with lots of flavorful fresh veggies. Serve with a garnish of olives and feta for even more Mediterranean flavor.
Spicy Tequila Lime Shrimp and Sautéed Mixed Vegetables with Chipotle Citrus Sauce
These marinated shrimp will wow your taste buds with a spicy, citrusy burst of flavor. The lightly sautéed vegetables are tossed with a complimentary dressing to enhance the flavor sensation. This healthy and delicious meal is great when served with an ice cold beer or glass of wine.
Chicken & Vegetable Pan Pie with Green Beans & Mushrooms
This comfort food meal warms you from the inside out. The seasoned chicken and vegetables simmer in a creamy herb sauce before being topped with a puff pastry crust and baked. The side dish is especially for mushroom lovers...no plain, boring green beans here!
Pineapple Barbeque Boneless Pork Chops and Creamy Mashed Potatoes
Tender, center-cut pork chops are baked slowly in a tangy and sweet homemade barbeque sauce that is deliciously unique. You'll love the sauce so much that you'll want to ladle some extra on the creamy mashed potatoes. Your whole family will love this tasty, home-style meal.
Hawaiian Fish Tacos with Pineapple Salsa and Black Bean & Corn Salad
These fish tacos are my spin on delicious and healthy Mexican food. Serve them in soft corn tortillas topped with pineapple salsa for a tropical fiesta in your mouth! Enjoy them with Black Bean & Corn Salad for a light and healthy meal.
Marinated Beef and Vegetable Kabobs and Mediterranean Quinoa Pilaf
These juicy, tender chunks of marinated beef will melt in your mouth! The beef is broiled on skewers with fresh onions, red bell peppers and tomatoes. Quinoa pilaf with sun dried tomatoes, roasted red peppers and pine nuts is a delicate, nutritious side dish that completes this scrumptious Mediterranean meal.
Four-Bean Vegetarian Chili and Cheddar Corn Muffins
Warm up with this vegetarian chili that is so hearty it doesn't need meat. This is a client favorite! A blend of vegetables and seasonings cooks slowly with protein-rich kidney, pinto, black and garbanzo beans for a tasty winter meal that's perfect for a cool Fall or Winter evening. Add your favorite cheese or sour cream, or enjoy by itself for a vegan meal. Eat the corn muffins alongside or crumble into the chili. This is a great fireside or game-time meal.
Cuban Pulled Pork with Black Beans and Brown Rice
This pork dish starts with pork tenderloin baked with Cuban spice rub blend. This tender pork is then pulled and simmered in a citrusy island sauce that complements the spice rub for a delicious flavor burst. Serve with a side of Cuban black beans and rice, and you are transported to the Caribbean!
Italian Meatballs in Marinara and Zucchini Parmesan Rice
These hand-rolled and baked meatballs are made with different meats depending upon each client's preferences. Because I start with quality meats, I can also make them gluten-free. They are slow simmered in a homemade marinara sauce. Enjoy them with zucchini parmesan rice for a meal that will make you say "delizioso!"
Crab, Corn & Potato Chowder and Chopped Garden Salad with Creamy Garlic Dressing
This hearty chowder warms you up on even the coldest days. Hearty and creamy, this chowder can also be modified for gluten-free diets, like many Homemade Fresh recipes. Served with a side salad, this meal is a client favorite for seafood lovers.
Veggie Burgers or Black Bean Burgers with Herb Roasted Potatoes
These homemade veggie burgers are unlike any processed frozen veggie burger you've had. Made from scratch with lots of fresh vegetables, clients say these are the best they've had! Top burgers with your favorite cheese and maybe some salsa, and they are delicious with or without a bun. Herb roasted potatoes provide the "burger and fries" experience, but with a healthy spin!