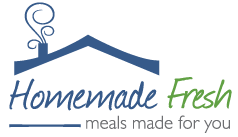 Now Serving the
Hendersonville Area
704.724.0485
Meal Plans
I develop a personalized menu for each client cooking session based on that client's tastes and preferences. Dinner meals include entrées with appropriate side dishes. I can also provide breakfast, lunch and snacks. I typically leave each client with one or two week's worth of meals in one cooking session depending upon the meal package that is chosen.
We can design a plan that suits your family's size and needs. Most clients choose weekly, bi-weekly or monthly service. However, we can discuss other service plans if these do not fit your needs.
Fees
Service fees vary depending upon the meal plan chosen and are discussed with each client prior to scheduling a cooking session. The fee for each cooking session includes the following:
Personalized recipe research and meal planning
Grocery shopping service for ingredients (clients pay for groceries)
Travel to and from your home
Meal preparation
Packaging, labeling and storing meals
Providing storage and reheating instructions
Kitchen clean-up
Affordable for Your Food Budget
Meals from Homemade Fresh save you lots of time and can be an affordable part of your food budget. A Homemade Fresh meal costs about the same per serving as an average restaurant meal. When you add up the cost of dining out, take-out or delivery, groceries, driving, tipping, and the value of your time, Homemade Fresh is very affordable.
Here's What You Save with Homemade Fresh
No tipping servers or delivery drivers

No time spent driving to restaurants or grocery stores

No time or stress planning and cooking meals

No time spent prepping and cooking with a meal prep kit

No time spent grocery shopping for the meal ingredients

No extensive time spent cleaning the kitchen

No time spent waiting—in traffic, in lines, or for a table
Here's What You Gain with Homemade Fresh
You specify how you want your food prepared

You have control over the ingredients used
You know that your family is eating fresh, nutritious meals
You know that the meals were prepared in the safety of your kitchen
You have the convenience to schedule healthy meals around family activities and different schedules
You have more time and energy to spend doing things you enjoy
You can spend more time with your family at the dinner table
Payment
Each cooking session invoice includes the service fee plus the cost of ingredients. Clients pay for the groceries that Homemade Fresh purchases for each cooking session based on provided grocery receipts.
Gift Certificates
A Homemade Fresh gift certificate is a "tasteful" and healthy gift for new parents, brides, new college graduates, people recovering from surgery or illness, busy singles, couples and families, and people who don't enjoy cooking. It's also a great gift for the cook in your family--even the cook needs a break now and then! Call for more information.